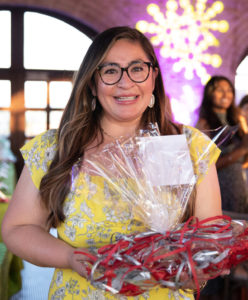 Active Member of the Year: Victoria Enriquez
The Active Member of the Year Award is given to a member that has gone above and beyond her placement. This year it was an incredibly difficult decision as so many of our members stepped up to ensure our League's success.
Our 2020-2021 Active Member of the Year is Victoria Enriquez, a native El Pasoan and graduate of The University of Texas at El Paso with a B.S. and M.S. in Metallurgical and Materials Engineering. While at UTEP she was the VP of Finance and Operations, New Member Educator, and Chapter Advisor of Alpha Xi Delta.
She joined the Junior League in 2014. Always cheerful, friendly, thoughtful, and willing to put in the extra effort. She has served and chaired various placements, including Kids in the Kitchen, Provisional Committee, A Christmas Fair merchant committee, Ending the Silence project, chair of Bridging the Gap Mental Health App, and the current chair of our Heart Cart project. This year, Vickie continued her work on the mental health app while also serving as our Heart Cart project chair. She simultaneously chaired two of our community outreach projects! Professionally, she is the Sr. Environmental, Health and Safety Analyst at Eaton, including co-leading of the site culture committee coordinating all community outreach projects and site Diversity and Inclusion initiatives. She is a mom to a fun loving and energetic two-year-old boy who is her entire world!! We are so pleased and thankful for you. Congratulations Vickie!
---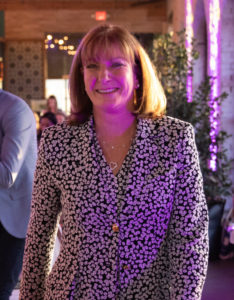 Sustaining Member of the Year: Amy Marcus
The Sustaining Member of the Year Award is presented to a member who has contributed in an outstanding manner through her spirit of commitment to the standards, ideals, and purpose of the Junior League. This year's honoree's contributions are an excellent example of the profound and lasting impact made by Sustaining Members.
Our 2020-2021 Sustaining Member of the Year is Amy Marcus! Described as a true community advocate, she is always available to talk, listen, and offer advice and guidance. The Junior League of El Paso is grateful to count on her as a friend! She has served in several placements, such as Training, Education and Development Chair, Nominating, Community Research, Provisional Chair, Midnight Basketball Chair, Placement Chair, and President. She has also served on the Association of Junior Leagues International Board of Directors and Action Learning Team!
The Junior League is just one organization on a long list of her community service, including:
The El Paso Museum of Art
Paso Del Norte Health Foundation
Leadership Texas 2015
Serves as the Ambassador for Leadership Women
Board of Texas Hillel at the University of Texas
The Braden Aboud Memorial Foundation Board and serving as the B STRONG Tennis Shoe Giveaway Chairman for 12 years organizing the distribution of over 9000 pairs of tennis shoes to economically disadvantaged children in the El Paso area
The FBI Citizens Academy
She was most recently recognized as a Women of Impact 2020!
This past year, she served as the Sustaining advisor for Driving Out Hunger, attending their meetings and training, and volunteered at least 30 times to deliver the emergency food boxes! Amy, thank you and congratulations!
---
Ju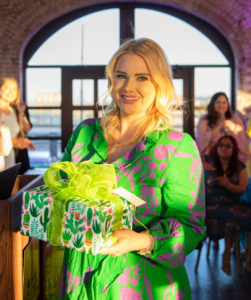 lia Gilbert Award: Stacie Downey
The Julia Gilbert Award was established to honor a League member with a passion for our community, love of volunteer service and commitment to the mission of the Junior League of El Paso, Inc. The recipient of the Julia Gilbert Award is decided upon by the Member-at-Large (MAL) and the Vice President of Membership. This year we chose a member who gave 110% to her position, to helping others, to giving her time and showing heart. Congratulations to Stacie Downey our 2020-2021 Julia Gilbert awardee.
Stacie Downey has been an active member of JLEP since 2018.  This year she held a chair position for the first time; And what a time to have been a first-year chair.  She was tasked with helping to evolve League into an online year, coordinating zooms for all general and board and council meetings, coordinating voting polls, saving meeting videos, coordinating the agendas, being the right hand of the president, and so much more. While the average person may see this as an easy task, any board and council member could see the hard work and stress that came from this job; and Stacie did it all with a smile and most of all, with heart and ethics. Like Julia Gilbert, Stacie has a heart of gold and selflessly did so much work behind the scenes. In a year where the pandemic took the JLEP in a different direction, and membership satisfaction was needed, Stacie was able to get it done.
---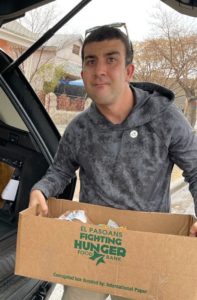 Better Together Award: Mitchell Marcus
"Better Together" award is a special servant leadership award established in 2019-2020 to highlight the extra effort a member made to benefit our League. This year, we chose to continue the Better Together award, and it was an honor to present it to Mitchell Marcus, our new Junior League of El Paso honoree member. Mitchell helped Drive Out Hunger and shared his stories via his social media posts. He has been going to the El Pasoans Fighting Hunger Food Bank making weekly grocery deliveries. We were truly better together with Mitchell's help! We are so thankful to Mitchell Marcus and Amy Marcus for their time and dedication to the League!