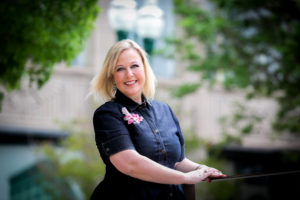 Active of the Year – Kim Norvell Miller
Kim Norvell Miller's first active year in JLEP was 2016-2017.  She served on the Community Research Committee, and took on the responsibility of organizing and implementing a successful Community Forum.  She reviewed the AMPs for each proposed projects and helped the committee come up with fun and creative names for the incoming projects, which helped ensure that our new community impact area would be a success.  Her organizational skills, positive attitude and willingness to take on difficult tasks with a smile made her a wonderful choice to serve as the first Christmas Fair Administration Chair.  We discovered during the fair bonding trip that she also has some amazing karaoke skills, and we had a great time at the fair kick-off event she hosted with her amazing Halloween décor! She took on the task of combining three Christmas Fair committees into one and was present all during fair to ensure the membership experience was smooth and enjoyable.
She took on the additional task of chairing the Endowment Fund Development Committee this year, and did an amazing job putting together a planned giving program and wonderful presentation for our membership on a topic that can be touchy and difficult to discuss. Storytellers was fun, flawless (with the exception of some double-sided tape) and successful.  The two-night event was fun for all who attended, and will ensure that the event will continue to generate excitement in the coming years.
Kim is a 2002 graduate of UT Austin with a Bachelor of Arts degree, majoring in Philosophy.   During her time at UT, she also served as an officer of the Alpha Phi sorority.  She went on to earn a Doctorate of Jurisprudence with Distinction from the University of the Pacific, McGeorge School of Law in Sacramento, CA, in 2005, where she received the Witkin Award for Legal Research and Writing as well as many other honors.
She practices law in El Paso and belongs to the El Paso Bar Association, the American Health Lawyers Association and is a Texas Exes Lifetime member.  She also currently serves as the Secretary/Treasurer of the Greater El Paso Football Showcase.
---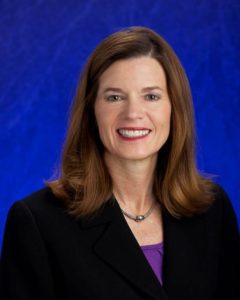 Sustainer of the Year – Lee Ellen Banks
Lee Ellen's first active year in JLEP was 1993-1994.  She held a number of Board & Council positions including Treasurer and VP of Finance.  In 2002, she moved to Tampa, Florida and transferred her membership.  While in Tampa she held various positions and then after serving as Nominating Chair, moved back to El Paso in 2008.  She transferred to JLEP as an Active and then became a Sustainer a few months later.  As a Sustainer she has served as Sustaining Advisor to Christmas Fair Finance, the Building for the Future Committee, and most recently Girls Going the Distance. She has been a member of the Building Ad-hoc Committee since its inception. She has served for the last two years on the Junior League of El Paso Endowment Fund Board of Directors.
She credits her Junior League training for opening doors to numerous community positions.  A graduate of New Mexico State University, she has served on the NMSU Foundation's Board of Directors since 2007 in various positions including Treasurer and a member of the Executive Committee.  She serves on the President's Associates Scholarship Board and created the Banks Family Endowed Accounting Scholarship in 2006. She was honored with the College of Business Distinguished Alumna Award in 2013. Professionally, Lee Ellen is a Controller for a family office and has worked in finance and accounting for 25 years.
She is a graduate of the Leadership El Paso Class #15 and Leadership Texas 2011 graduate. She currently serves on the Leadership Women Board – a national organization established to provide programs that advance and improve the personal, economic, and professional status of women. She is a Past President of Executive Forum, Inc., and serves as a member of the El Paso Marathon Foundation Board and the Rio Grande Cancer Foundation Board.
---
The Julia Gilbert Award-Leyla Zeidan Safa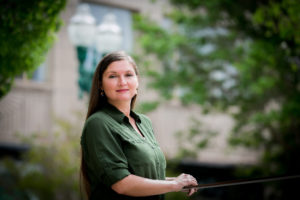 The 2013-2014 Board of Directors established the Julia Gilbert Award to honor a League member with a longstanding passion for our community, love of volunteer service and commitment to the mission of the Junior League of El Paso, Inc. The recipient of this award is selected by the Vice President of Membership and Member-at-Large. The Julia Gilbert Award is awarded to a member who exhibits the spirit and commitment that Julia had throughout her years of membership in the Junior League of El Paso before her passing in June of 2014.
Congratulations to Leyla Zeidan Safa, this year's recipient of the Julia Gilbert Award. Leyla has been a member of the Junior League of El Paso since 2012. She has served our community in a variety of instrumental positions, including the Vice-President of Communications, the Nominating Committee and as Resource Development Chair. She herself served alongside Julia Gilbert on the 2013/2014 Publications Committee. Leyla is committed, gracious, caring and dedicated to her community, all qualities Julia embodied with such contagious enthusiasm. We are proud of Leyla, and thank her for all of her hard work, professionalism and heart!
---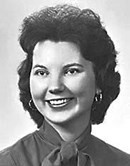 Lifetime Achievement Award-  Carol Stripling  
Over the years the Junior League of El Paso, Inc., has had numerous members, projects, and memories.  One person who stands out in the memories of many is Carol Stripling.  She was a dear friend to all, and passed away December 1, 2017.  She was a huge part of JLEP, and made the biggest impact during her time serving on the Good Time Singers (GTS.)  She began singing with GTS in 1992, became the piano accompanist, and then started singing again in recent years.  She was a wonderful part of GTS and shared her incredible voice and talents with all of us for 25 years.
Carol had music in her heart, and was an exceptionally talented musician and singer.  She had the ability to sight read any musical composition with no rehearsal and immediately accompany the group, all while singing along, a rare and coveted ability.  She was a high soprano with an amazing voice.  Sometimes she sang Tennessee Waltz acapella and would look into the crowd to find an elderly gentleman, hold his hand, and many times they would stand up and dance with her.  Not only did she have a beautiful voice, she had a kind spirit.  She taught music at a local preschool and was patient, kind, and encouraging with the children.
Carol was always kind and compassionate to the elderly to whom she sang, just as she was to the children she taught.  She was a rare angel, who is missed every time GTS performs.  Next time you hear a beautiful soprano voice, think of Carol and her great contributions to us all.