Past Provisional Projects
The annual Provisional Project is a collaborative effort of the Junior League of El Paso, Inc.'s newest members known as the "Provisional Class". Its purpose is to teach the Provisional Class leadership, planning, cooperation, and voluntarism. The project must have a charitable purpose and may not be religious or political in nature. Here is a look back on past Provisional Projects.
---
2021-2022 Provisional Project- Diaper Dash

It was a mad DASH of a year for the Junior League of El Paso, Inc.'s Provisional Class of 2021-2022. These women went above and beyond starting in January to impact the lives of the Armed Forces, local charities and their fellow El Pasoan. The incredible group of over forty ladies worked hand in hand with the Armed Forces YMCA to create A Bliss-ful Diaper Distribution.
 The team of 44 women far surpassed the original goal of collecting 50,000 diapers and reached an astronomical amount of 134,424 diapers! They worked diligently with local businesses, schools, gyms and more, by creating local drop off locations and events for our El Paso community to donate to.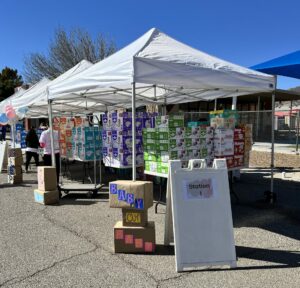 It took every single second of the 878 volunteer hours, sweat and tears (passionate and sincere ones) to pull this off in this short amount of time. The women did a fantastic job organizing and executing such an impactful project that they hope will be a part of JLEP for years to come!
On the day of the Bliss-ful Diaper Distribution, the Provisional class, along with the PAL leaders and support of the Village Committee, served hundreds of families within the Fort Bliss and El Paso community. The team also distributed formula, mental health information packets and more to those who drove through the line that day. Their surpassed goal left the Armed Services YMCA with a stocked diaper bank for the bravest members of our community to use.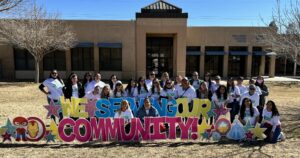 The Provisional Committee is so incredibly proud of the women of the 2021-2022 Class. We truly couldn't have been more blessed to work with these giving, strong, kind and driven women. What a gift this class is not only to the Junior League of El Paso, but also to the entire El Paso community. 
Thank you! Thank you! Thank you! To every single person who donated diapers, funds, time to help the Junior League Provisional class be so successful this year!
---
2020-2021 Provisional Project with La Semilla Food Center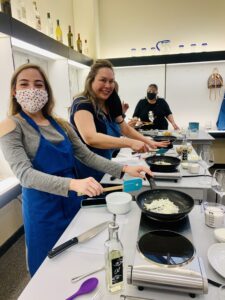 The Junior League of El Paso, Inc.'s, Provisional Class of 2020-2021 partnered with La Semilla Food Center to provide the opportunity to encourage the development of healthy food preparation techniques by teaching families how to select and prepare healthy foods.
Due to the economic impact of the pandemic, problems with food insecurity had been exacerbated – having less money for food often translates into families choosing less expensive processed foods that are high in preservatives and carbohydrates. This, in turn, can result in the development or worsening of health problems, including obesity, diabetes, and coronary artery disease.
Divided into four committees – the Resource Development Committee, the Public Relations Committee, the Program Development Committee, and the Recruitment & Distribution Committee – the provisional class started the process that would turn their project into a reality.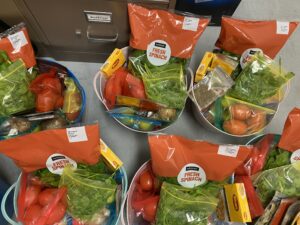 These included: (1) the recruitment of 15 families in the greater El Paso area experiencing food insecurity. They were selected with the help of school counselors and consisted of 4-6 family members. Among the families recruited, many were single mother households and migrant families from as far as South Africa; (2) recipe development – members were invited to submit healthy recipes/meals. While it was difficult to choose among so many enticing meals, eventually, we chose a delicious Indian menu. (3) translation of the recipes submitted in Spanish resulted in a bilingual cookbook. Each family received a copy of the cookbook while extra copies were sold to help raise funds for the project; (4) soliciting donations and raising funds; (5) public relations– informing the community; (6) purchasing and delivering food boxes for the participating families.  In addition to the healthy food purchased for the meal, each family received a slow cooker (crockpot), measuring cups, and fun activities for the younger children.  The food was delivered in insulated bags that each family kept; (7) and assisting with the execution of a virtual cooking class – where all the chefs were the Provisionals themselves. To prepare for the virtual cooking class and raise additional funds, we hosted a "practice" Virtual Cooking class for participating Junior League of El Paso members. Also, Divya Mulukutya, who submitted the winning recipe, held a cooking class for the chefs and any Provisional member who wanted to participate. This gave our chefs the necessary experience to excel and thrive with much welcomed feedback.  
The Distribution Committee members had such wonderful, heartfelt stories to share of the gratitude they experienced from each family. A single mother who was not sure what she was going to feed her children for dinner on that Saturday evening and the South African mother whose husband was unemployed and whose family was struggling financially. One of the most touching stories was the migrant mother from Fabens, who asked when she had to return the crockpot. When she was told that it was our gift to her, she became teary-eyed and said she was eternally grateful.       
The Provisional class of 2020-2021 is committed to positive change in our community and will remember this project as a profound and life-changing experience.
---
2019-2020 PROVISIONAL PROJECT with Rebuilding Together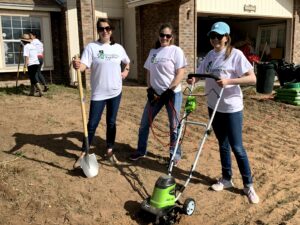 Picture this: a group of strong, capable women, getting their hands dirty and rolling up their sleeves to transform a fellow female El Pasoan's home and life.  That was just another Saturday for our provisional class, as they embarked on their project.  The Junior League of El Paso, Inc.,  2019-2020 Provisional Class partnered with a local non-profit organization called Rebuilding Together, a former JLEP project known as Christmas in April! Rebuilding Together transforms homes for people who are living in unsafe conditions.  They're changing lives every day, and we were lucky to be a part of one of these life changing opportunities.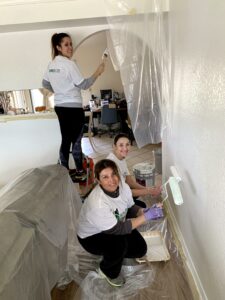 Our ladies worked two full shifts all day on Saturday, February 22, 2020. We were on site before 8 am and worked through the day until every task was completed.  We pulled weeds, tilled soil, landscaped, painted, cleaned, and so much more. But most importantly: we met the home occupant, talked to her, and truly became invested in her life. We walked away from this project feeling gratified and humbled, having been a part of such a rewarding experience.  
This project was a culmination of all the hard work the provisional ladies have completed. They were able to utilize all the skills they learned during our council trainings. Our subcommittees each carried out their tasks seamlessly, working together collaboratively. The harmonious relationships all the ladies have cultivated really helped this project go smoothly and successfully.  
We all went to bed that night tired, sore, and happy. We changed someone's life with our own two hands, and that is something we will never forget. We are all so thankful for this experience that JLEP has given us.
A special thank you to all our members who helped and encouraged us along the way.  Thank you to Rebuilding Together for supplying us with everything we could ever need to accomplish this task.  Also, a big thank you to Sunset Gardens for donating plants we used to landscape the home and Synergy Lighting for donating outside landscaping equipment. We are forever grateful for all the support we received!