Provisional Project 2022-2023
The Provisional Project is a collaborative effort of the Junior League of El Paso's newest members known as the Provisional Class. Its purpose is to teach the Provisional Class leadership, planning, cooperation, and voluntarism.  The project must have a charitable purpose and may not be religious or political in nature.
---

ABOUT 
The Junior League of El Paso, Inc. Provisional Class of 2022-2023 is hosting "The EmpowHERment Project", a day of wellness and respite for 40 women who reside in the YWCA El Paso del Norte Region's Sara McKnight Transitional Living Center and the Center Against Sexual & Family Violence (CASFV) rapid rehousing initiative. 
The EmpowHERment Project will be hosted at the Texas Tech Dental Oral Health Clinic on Saturday, February 25, 2023 from 9:00 am to 1:00 pm. Guests will receive dental and health screenings, career counseling, financial literacy and mental health resources. They will also have opportunities for relaxation and pampering through guided meditation, trauma-informed yoga workshops and beauty services. Each guest will be given a wellness bag with essential items, self-care tools, and additional resources.
PROJECT GOALS
The EmpowHERment Project aims to: 
Facilitate a comprehensive wellness day for 40 women in local transitional living centers.

Promote physical and mental health within the local community.

Support women in creating transformational change in their lives (and across generations) through wellness.

Work collaboratively with community partners on a project within the JLEP focus of mental and physical health.
HOW TO DONATE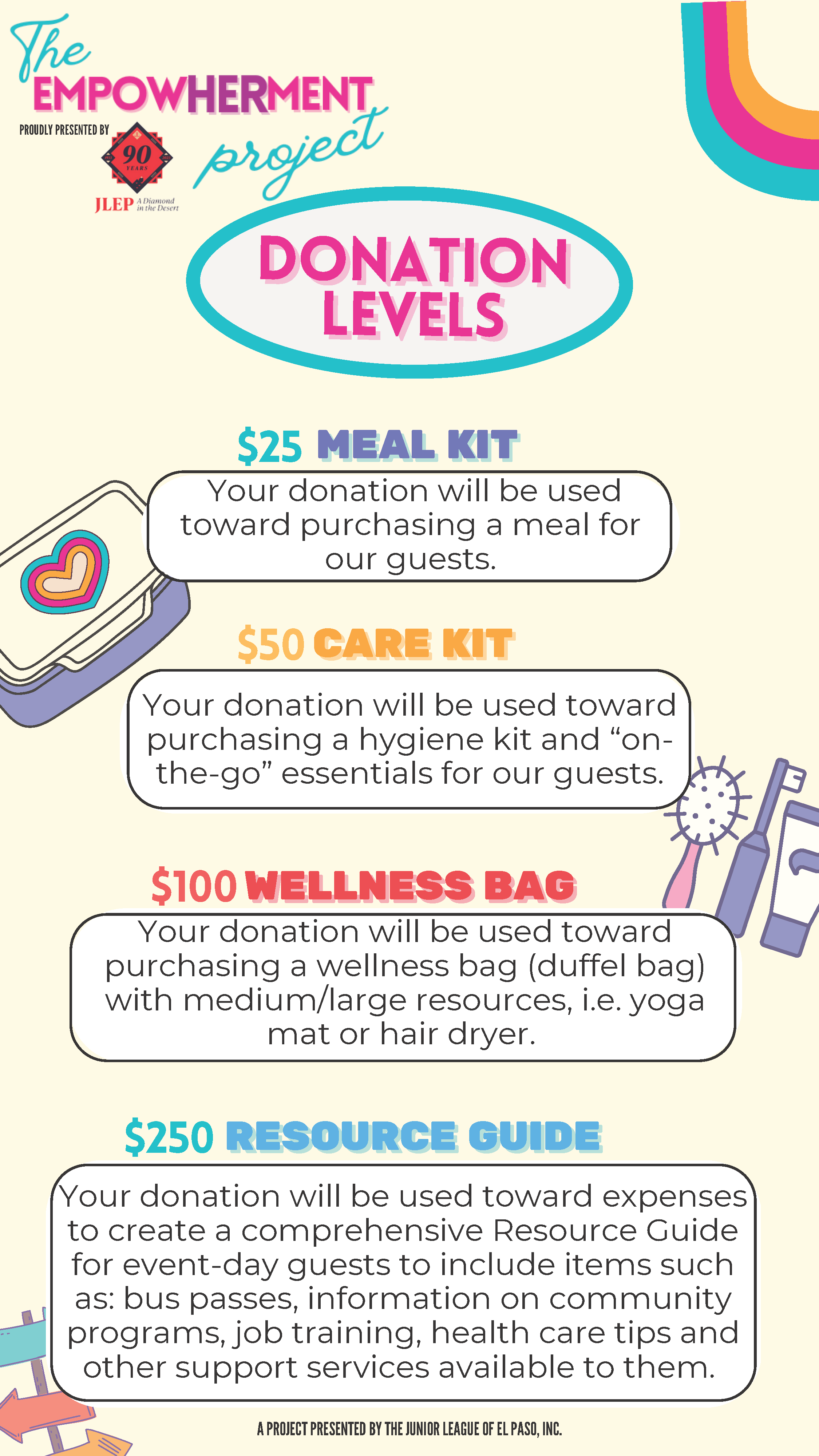 Please help us make The EmpowHERment Project a successful day of wellness and self-care for these deserving women by donating today. Four convenient online donation levels are available below. Every donation supports survivors of domestic violence and the critical work done at YWCA and the CASFV. Thank you in advance for your generosity.

Meal Kit Sponsorship

$25: Your $25 donation will be used toward purchasing a meal for our guests. 

Care Kit Sponsorship

$50: Your $50 donation will be used toward purchasing a hygiene kit and "on-the-go" essentials for our guests.

Wellness Bag Sponsorship

$100: Your $100 donation will be used toward purchasing a wellness bag (duffel bag) with medium/large resources, i.e. yoga mat or hair dryer. 

Resource Guide Sponsorship

$250: Your $250 donation will be used toward expenses to create a comprehensive Resource Guide for event-day guests to include items such as: bus passes, information on community programs, job training, health care tips and other support services available to them.

Donations may also be made by check. Please make checks payable to "The Junior League of El Paso, Inc." with "Provisional Project FY 23" written in the memo line. Checks will be accepted Monday through Friday from 10:00 am through 4:30 pm at 6100 Dew Drive, El Paso, TX. 79912.