2019 A Christmas Fair: Special Events
A Nightmare Before Christmas Fair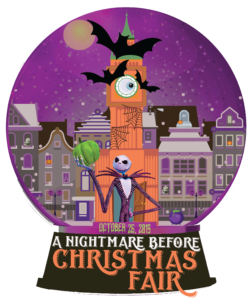 October 26, 2019
Union Depot
7:00-11:00 p.m.
Trick or Treat…The Nightmare Before Christmas Fair is almost here! Monster Mash your way through our live auction, photo booth, and dance floor. Enjoy heavy hors d'oeuvres, drinks, DJ, and many other fun surprises. It wouldn't be a Halloween party without a costume contest so grab your fellow ghostbusters and put on your spookiest costume for a chance to win one of our major prizes. The contest will include: best dressed female, male, couple, and group. VIP tables are also available for purchase for $1,000. VIP will include a table for 10, signage and company recognition, a liquor bottle for the table as well as table service and all the other amenities of the special event.  Please reserve your VIP table through the sponsorship form below .
2019-2020 Sponsorship Contract Fair
To purchase individual tickets, CLICK HERE
or Text TICKETS to 9159959990
Tickets and sponsored tables are only available for pre-sale. None will be sold at the door. This event is sure to be a howling good time!
Christmas Fair Special Events 2019
Tone, Tinis, & Tags
November 1, 2019
El Paso Convention Center
8:30-10:00 a.m.
 Tickets: $30
To purchase tickets click here
Calling all shoppers! This is your chance to get a sneak peek at all of the fabulous merchants we have this year. Along with first access, you will be able to take a class presented by Pure Barre as well as nibble and sip on some tasty treats.
Santa's Sweet Shop
November 2 & 3, 2019
El Paso Convention Center
9:00-11:00 a.m.
Tickets: $30 for an Adult and Child
Additional child ticket : $15
To purchase tickets click here
Make your day a little sweeter by joining us at Santa's Sweet Shop. It is your one stop sweet spot! Kids will get to build gingerbread houses, enjoy lots of yummy treats, and write out their very own wish list to Santa. Every child will receive an apron that they can take home to continue perfecting their decorating skills. We will also have a scrumptious breakfast that is sure to satisfy everyone's sweet tooth!
Holiday Bootcamp
November 2, 2019
El Paso Convention Center
4:00-6:00 p.m.
Tickets: $30
To purchase tickets click here
Tis the season for throwing parties! Join us for an afternoon full of fun, laughs, and of course tons of crafts. Grab a friend and come learn how to build a fabulous charcuterie board, put together one of a kind ornaments, decorate holiday cookies, and spread holiday cheer!
Cookies with Santa
November 2 & 3, 2019
12:00 p.m. & 3:00 p.m.
Grab the kiddos and join us for story time with Santa. We will have milk, cookies, and of course a spectacular reading of the Night Before Christmas by the one and only Santa Claus!
Elf's Lodge
November 3, 2019
Wallflower
11:00 a.m.-6:00 p.m.
Tickets: $20
To purchase tickets click here
Fellas don't let the ladies have all the fun at Fair! Be sure to join us for an afternoon of football, food, and fun. We will have an auction that is catered to men as well as games. For some extra excitement be sure to buy VIP tickets that will allow you to participate in an exclusive tasting!