The Provisional Project is a collaborative effort of the Junior League of El Paso's  newest members know as the Provisional Class.  It's purpose is to teach the Provisional Class leadership, planning, cooperation and voluntarism.  The project must have a charitable purpose and may not be religious or political in nature.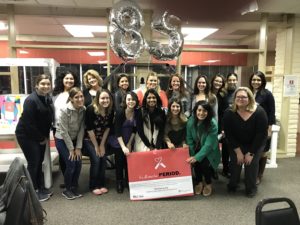 2017-2018 Provisional Project 
Our provisional class was tasked with the project of providing local women in need with menstrual hygiene products. To help address this basic necessity, the provisional class of 2017-2018 established the "It's All About Her. Period." project in partnership with #HappyPeriod, a nonprofit that provides homeless and low-income women with menstrual hygiene kits. The initiative also strives to end the stigma surrounding menstruation. Each kit consists of 5 tampons, 5 pads, 4 panty-liners, 2 wipes, a water bottle and a pair of underwear. Tasked with the goal of creating 1,000 kits in less than a month, the provisional class sought the help of community organizations and League members alike. Generous contributions poured in during League meetings and from companies such as Coastal Deli, Jason's Deli, Novotex, Homes for Heroes, Emerson Automated Solutions and the Hospitals of Providence.
After countless hours of assembling products, the goal of 1,000 menstrual hygiene kits was not only met but surpassed by the February 22nd deadline. A week later, on February 27th, the provisional class distributed 100 kits alongside #HappyPeriod to the Reynold's Home. The culmination of the project was celebrated at the women's shelter with food, drinks, and press interviews with KVIA News Channel 7.
The power of a community coming together to help those in need is an incredible thing, especially when it touches upon a topic that is so unnecessarily taboo. The generosity and guidance leading the way behind this project made its success all the sweeter because nobody should have to choose between a meal and menstrual products.