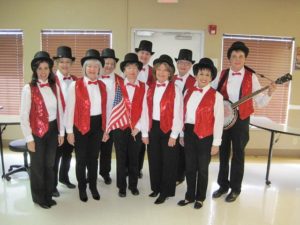 Music Therapy ( The Good Time Singers) is entering its 27th year as the Junior League's longest running project. We are thrilled to still be bringing the "healing power of music" to the elderly of the El Paso community. The GTS is a Sustainers project, combined of 16 Sustainers and community volunteers.
We sing a medley of songs from Old Time Favorites, Spanish, Railroad tunes, and Patriotic. We use various props and musical instruments to encourage participation and interaction from our audience. This is the only project of its kind serving the elderly El Paso community. It provides nurturing social and physical contact, brings joy and music, and fulfills such a vital and much needed community service to our aging population.
We'd like to invite you to one of our performances to share in this joyful experience. We perform on Thursdays at 10:00 A.M. at various centers throughout the city. The schedule can be found here or you can call 915-584-3511.